Topics and spaces
Reinvention of a city region: topics and spaces
Since the start of collecting projects in October 2018, municipalities, initiatives, companies and private initiators have been applying with their small and large proposals to be included in the IBA'27 Network. Although the challenges are often multifaceted, many topics are similar in nature. They can be found in different locations across the Stuttgart Region with a different spatial focus. Naming these topics and spaces gives IBA'27 a face in the Stuttgart City Region and makes it tangible. Their specific buildings, places and typologies will write the next chapter in the history of building and urban development in highly industrialised metropolitan regions going forward.
The topics will continue to be formed throughout the course of IBA'27. They make it possible to develop specific strategies and answers. In what areas are the findings of IBA'27 typical for the region and not transferable? In what areas are they generally applicable but in need of adjustment to local circumstances? And where is the core, which is so universal that it becomes an insight as a component of new urban practices, comparable with the aspirations of Modernism?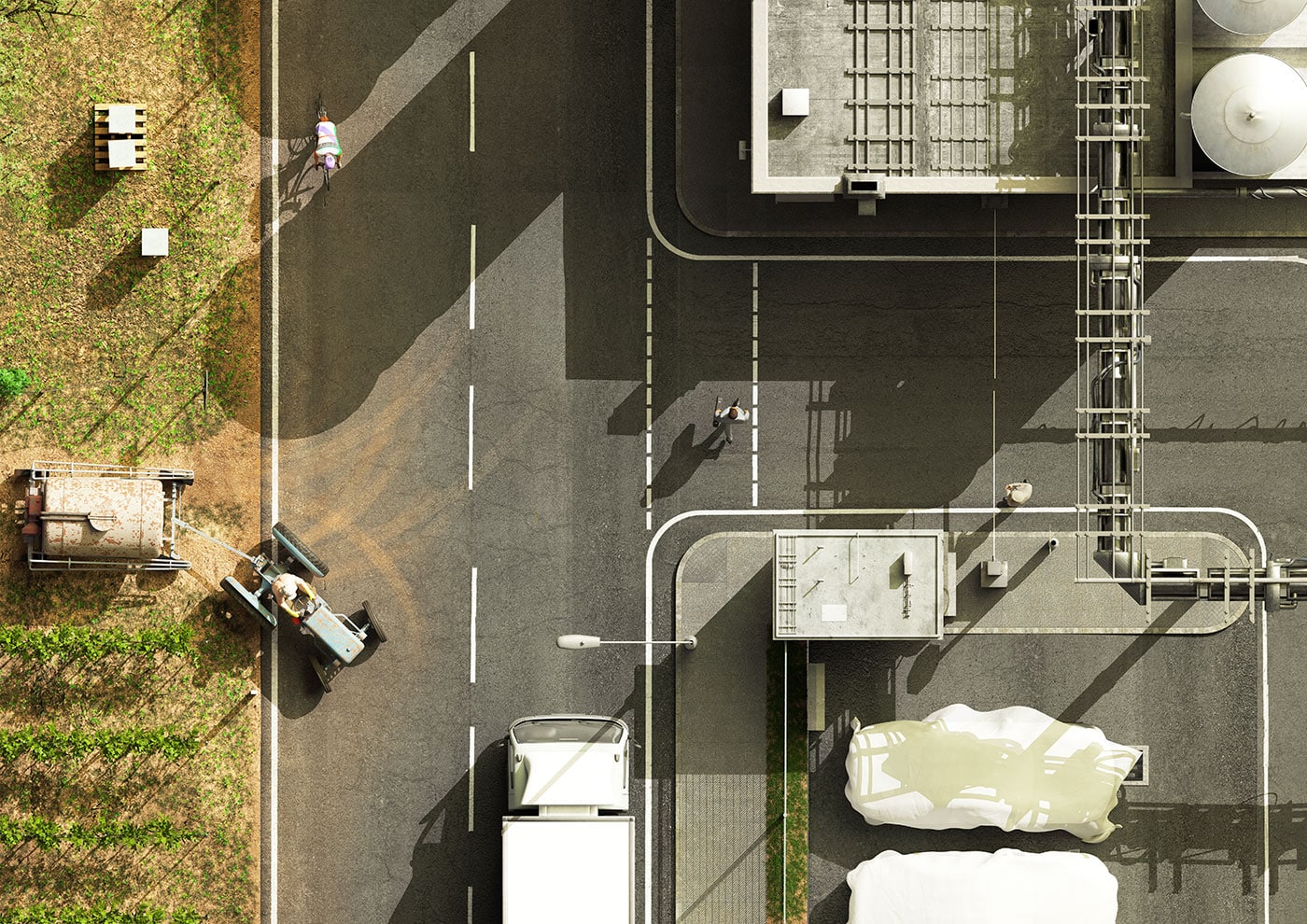 The Productive City
Digital transformation, robot­based manufacturing and new concepts for mobility are changing products and production methods in the Stuttgart Region. This allows for new vertically integrated factory concepts and their proximity to noise­sensitive uses, such as housing or education. For many areas in the region, this provides an opportunity to reinvent themselves. Production can return to the city, and industrial areas become urban building blocks. Small­scale urban farming provides the city with high­quality food, has a moderating effect on the climate and increases biodiversity.
This new productive mix can transform what are currently bland industrial zones and purely residential areas into mixed­use, vibrant and creative urban neighbourhoods. But the return of production goes far beyond mixed use in the European city. It not only takes place on a small scale on ground floors and in backyards but also takes the factory as an equal urban building block.
This paradigm shift has far­-reaching consequences for the structure of the city. There are many ways in which planning law and investor logic has not yet caught up with these new forms. An IBA is the right format to initiate change. Several projects in the Stuttgart Region want to attempt to do this with IBA'27.
The Future of Centres
Sprawling shopping centres on the outskirts of towns, online sales and changes in consumer behaviour have all increased the pressure on city centres. Traditional bank branches are disappearing, while restaurants and hotels are struggling with small margins and structural issues. Business closures have set in motion a process of devaluation, with what were once the bustling pedestrian areas and shopping streets of the post­war boom giving way to betting shops, discount stores and take­aways or, ultimately, vacant lots.
In the towns in the Stuttgart Region, there are often several places competing for centrality: the train station at the edge of the old town as a heavily frequented place, an in­between zone with shopping centres, services and cultural institutions that has grown on a large scale in the 1960s and 1970s and is car friendly, and a compact and historical old town. Large retail parks in industrial zones are putting further pressure on city­centre shops, but are also becoming meeting places and recreational areas in their own right.
Together with IBA'27, some municipalities in the Stuttgart Region are in search of new strategies to restructure this mix and to redefine places for meeting, forging an identity and facilitating social cohesion. Places for congregating and for learning, spaces for culture and community use, for new forms of work and experiments can emerge. What use concepts and operator models do we need in order for this to happen? Are new functions and needs emerging as a result of social and technological change? Is the idea of a traditional town centre still even relevant, or is it breaking down into more diverse structures?
Places for Moving and Meeting
The future of mobility is a topic of particular relevance for the Stuttgart Region as a car manufacturing location, a heavily interwoven metropolitan area with traffic congestion and environmental problems and as a major construction site for the contentious Stuttgart 21 railway station project. As a building exhibition, the focus of IBA'27 in relation to the topic of mobility will be on the spatial effects for public transport hubs. In the S­Bahn commuter rail network, these are often purely places for stopping, boarding or alighting trains, surrounded by bus stations and park­and­ride facilities with minimum infrastructure.
Apart from the functional pressure caused by increasing passenger numbers, these stations have major potential for densification. With supplementary functions and structures, they could in future become places that reduce traffic. Co­working spaces, short­term accommodation, cultural, sporting, leisure and childcare facilities all make it possible for many journeys to take place on foot or with lightweight vehicles just to the train station, without ever using the train network. Often in close proximity to places with a high concentration of workplaces, for example in industrial parks, the train stations with their infrastructure could improve the quality of day­to­day living by upgrading the work environment by offering services and places to eat, well­designed recreational areas and further infrastructure.
The Neckar River as a Liveable Space
Many people in Stuttgart consider the lack of a connection to the water to be one of the city's main shortcomings. The Neckar River flows past Stuttgart. But even in the wider region, the river doesn't live up to its historical and cultural significance. The water quality and the use as a waterway make bathing impossible. Technically, the river is a canal along which industry has developed. Winning back the Neckar and its tributaries as a liveable space and a connecting link that forges the identity of the Stuttgart Region is a task for generations. It will require many regional stakeholders to work together with determination and great effort. IBA'27 intends to use pilot projects and experiments to prove that the river can be transformed and to progress its ecological upgrading.
Cities all around the world have for years been turning their riverbanks and harbours into sought­after locations for recreation and housing after industrial uses have disappeared. With the Neckar, this is only partly true: The port is an important transshipment and logistics hub, and the riverbanks are still the site of manufacturing. In the narrow valley, key transport arteries directly along the riverbanks make access difficult. The industrial landscape is not a picturesque backdrop but the reality of a manufacturing environment. The studies on the productive city are centred around this aspect. The river can only be developed if this can happen in a way that is compatible with industry. We need new typologies for mixed use that resolve noise and emission conflicts, and we also need regulatory scope to facilitate these new forms of creating a productive yet liveable riverside city.
The Legacy of Modernism
The 100th birthday of the Stuttgart Weissenhof Estate is the occasion and point of departure for the second International Building Exhibition in the Stuttgart Region. The yardstick set by the Weissenhof Estate advanced via the Athens Charter towards universal demands for Modernism. It developed its full impact after World War Two: rebuilding destroyed cities, in satellite towns and redeveloping city centres to accommodate cars. The large building complexes of the 1960s and 1970s marked the climax and the end of this development simultaneously.
We have been battling with the legacy of this brief, modernist twentieth century ever since. Several IBA'27 projects are looking for strategies for dealing with the existing stock of buildings and their further development. How can settlements be transformed into neighbourhoods? How can housing concepts geared to small families be refined for a more complex society? How can the large­scale structures already built be adapted to new needs and brought up to date to function in a post­fossil fuel era? And last but not least: How can society support this process to ensure that the buildings sometimes negatively perceived meet with greater acceptance? In addition to the desire to preserve an epoch that was important from the aspect of building culture as well as grey energy that has already been built, we are also inspired by the oft­forgotten social ambitions of Modernism, such as its community­based housing experiments.
On a small scale and looking ahead to the presentation year 2027, these questions are also posed on the Weissenhof Estate. War­time destruction, urban reshaping and at times unfortunate architectural developments make the Weissenhof Estate a symbol of an epoch full of contradictions. With the greatest of respect for the history of the estate, IBA'27 wants to work together with the stakeholders in situ to develop a strategy for the renewal, functional densification and enhancement of the external spaces.